People often get confused between aestheticians and estheticians. Though they both represent skin care professionals but their area of expertise is based on different types of skincare. While both professionals focus on helping clients achieve healthy, radiant skin, there are some key differences between aestheticians and estheticians that are important to understand.
Aestheticians are skin care professionals who have received certified training in cleansing, exfoliating, moisturizing, and nourishing skincare routine procedures. You can easily find one working at various spas, salons, or even makeup studios. Their services vary from facials and go all the way to waxing. 
Their prime focus is to provide their clients with a celebrity-like, flawless look by improving their skin growth. They use various clay masks and cleansing techniques to get rid of dead skin tissues, giving the clients a more confident appearance and looks.
They may also be trained in facial massage techniques and the use of various types of equipment, such as steamers and high-frequency machines. Aestheticians, because of their extensive training, can provide valuable input on what specific brand serums, cleansers, toners, or moisturizers you should go for. 
Difference Between Aestheticians And Estheticians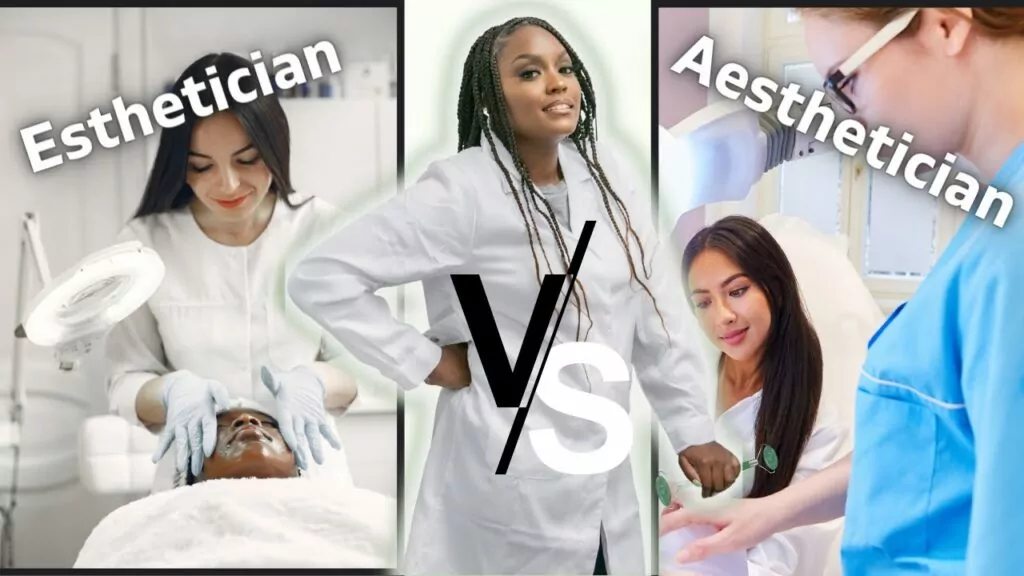 Based on the above discussion, we can see that the level of professional experience, education, and training differs widely between aestheticians and estheticians.  Aestheticians typically receive less training and education than estheticians and are not licensed to perform advanced skin care services such as chemical peels and laser treatments. Estheticians, on the other hand, have received more extensive training and education and are licensed to perform a wider range of skin care services.
A state-approved and verified esthetician program generally comprises anywhere in between 500 to 800 hours of training program, both theory and practical combined. Several esthetician schools are offering this training course, and contemporarily, many community colleges and schools offer it too. Esthetician programs cover a wide range of subjects, including anatomy and physiology, skincare techniques, product knowledge, and business skills.
Upon completion of an esthetician program, individuals must pass a state licensing exam. Another difference between aestheticians and estheticians is the scope of their practice. All in all, estheticians are more professionally trained to diagnose various skin conditions. In contrast, an aesthetician is focused on assisting their customers in improving the overall appearance of their skin. 
Because of the interaction between dermatologists, medical professionals, and estheticians, they are more equipped to formulate routine skin care treatments, especially for severe skin conditions like psoriasis, eczema, pigmentation, etc. In terms of career outlook, both aestheticians and estheticians can expect to see job growth in the skin care industry.
Bureau of Labor Statistics.
The Bureau of Labor Statistics also predicts that in the next decade, the demand and employment of skin care specialists will continue to rise in double-digit figures. This growth is relatively fast compared to the growth of various other occupations. This growth is due in part to the increasing demand for esthetic services as the population ages and the focus on personal appearance and wellness continues to grow.
Back in 2020, the average annual earnings for estheticians were reported at an approx $40,000. However, this can vary based on the location, skill set, experience level in years, and the type of industry an esthetician worked in. 
Estheticians who work in metropolitan areas and in luxury spas or resorts may earn more due to the higher demand for their services and the higher prices they can charge. In addition to their base wage, aestheticians and estheticians may also earn tips from their clients, which can significantly increase their overall earnings. It is common for aestheticians and estheticians to receive tips for their services, and the amount of the tip can vary based on the client's satisfaction with the service and the local customs.
Aestheticians and estheticians who work in salons or spas may also earn commissions on product sales if they work in a salon or spa that sells products. It's important for aspiring aestheticians and estheticians to carefully consider their career goals and the type of training and education they will need to achieve those goals.
Due to growth in the job market for skin care, there is an extensive potential for aestheticians and estheticians to build their professional network to make the most of the opportunities in the skin care industry. This will equip them with relevant knowledge and skill-set to excel in this field. 
Enthusiastic aestheticians can undergo multiple certified training programs to boost their recognition, learning, knowledge, and hands-on experience. This can include internships, apprenticeships, or entry-level positions in spas, salons, or resorts. The beauty industry is a revolutionary marketplace for an esthetician and aestheticians. 
Along with certified training programs, they can also consider well-recognized and certified associations like American Esthetician Association or the National Esthetician Association. These can help them keep up with the latest skin care treatments, build their professional network and research and develop their career path. 
These courses will help them achieve higher goals in the rewarding skin care industry, get more celebrity endorsements and fame, and make a name for themselves. To conclude, I hope now you can separate aestheticians from estheticians. However, both have an important role in the beauty industry, but it is important to know the right person to approach for your skin problems. 
Aestheticians typically receive less training and education and are focused on helping clients improve the appearance of their skin, while estheticians have received more extensive training and education and are licensed to perform a wider range of skin care services, including advanced facials and chemical peels.
Both aestheticians and estheticians can expect to see job growth in the skin care industry in the coming years, and they may earn a median annual wage of $35,080. However, earnings can vary based on location, experience level, and type of establishment.
Estheticians and aestheticians may receive tips and commissions on product sales in addition to their base wage, and they may need to complete continuing education to maintain their license and stay up to date on the latest techniques and products.