Growing a successful esthetician business requires a combination of strategies and efforts.You may have different reasons for opting to be an Esthetician. You may have an empathetic heart towards those suffering from skin ailments, or maybe the idea of having your clinic enthralls you.No matter why you choose the field, here's some expert advice on starting and taking off in the right direction.
Here is a simple four-part framework that can help you growth your esthetics business: One of the first things you should expect as a new esthetician is a period of learning and training. Always keep the end goal in mind. Shape your career with a clear vision of how you want to do things. Some important considerations to think through include the following:
Who should be your target audience?

What kinds of treatments would you want to perform in your clinic?

Would you prefer having your own private clinic, a spa, or be part of a resort?

List down your motivational factors.
All of these, in turn, will help you choose your career path.
This may involve taking additional classes, attending workshops and seminars, and working with more experienced estheticians to gain hands-on experience. Investing in your career may be costly, but it is worth it. 
Being part of seminars and workshops will also help you stay abreast of the latest developments, treatment plans, and medical updates in the field. The more you learn, the better you can equip yourself to provide the clients with their choice of services.
Moreover, these places also serve as an opportunity for networking. You can give out your business cards, chat with fellow Estheticians, and build a rapport with your potential clients. Another thing to expect as a new esthetician is the importance of building and maintaining a strong client base.

Service quality and after-services play a key role in building client relationships. Always be available for your clients, and work on retaining the existing clients, before investing efforts in finding new ones.This may involve taking the time to listen to their concerns, providing personalized recommendations, and following up with them to assess the effectiveness of their skin care routines.
Establish a web presence, share your work, and connect with potential leads over LinkedIn, FaceBook, Twitter, and other social media platforms. Your website, of course, is a must. People should be able to find you and connect with you online. Regularly update your website about your practice, treatment plans, and other details about your business.
Also, start your own blog. Talk about the latest developments in the field. Tell people about your services, and write detailed answers to FAQs that will address their concerns and fears. You can also share skincare tips and recommend or review the latest products. In addition to using high-quality products, it is essential to be attentive to your clients' needs and make them feel comfortable and relaxed during their treatments.
As a new esthetician, you should also expect to work long and irregular hours. The beauty industry is known for its long and sometimes unpredictable hours, and as a new esthetician, you may find yourself working evenings, weekends, and holidays to accommodate your clients' schedules. It is essential to be flexible and adaptable as a new esthetician, as you may need to work around your clients' schedules and the demands of your business.
New Esthetician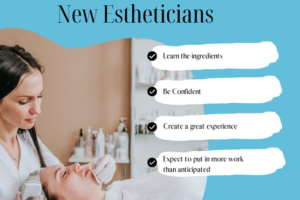 One way to manage your time effectively as a new esthetician is by staying organized and setting clear goals. This may involve creating a schedule and sticking to it, keeping track of your appointments and tasks, and delegating tasks when necessary. It is also essential to make time for self-care and avoid burnout.
Especially during periods of low footfall, it's natural to feel bored or worn out. But stick through these periods, and always be there whenever a customer walks through your doors. One of the biggest challenges that new estheticians may face is managing their finances.
While the beauty industry can be lucrative, it is essential to be mindful of your expenses and budget your money carefully. Besides being an Esthetician, you have to be a good salesman. You do not just have to market yourself but also products from time to time. You may write guest blogs or paid reviews. 
That will get the bills rolling and also build your reputation. It is also essential to understand the business side of being an esthetician, including marketing and promoting your services, setting prices, and managing your time effectively.One way to manage your finances effectively as a new esthetician is by creating a budget and sticking to it.
This may involve tracking your income and expenses, setting financial goals, and saving for the future. Then marketing and promoting your services, networking with other professionals and potential clients, and building a strong online presence are also important.
Leave your business cards and brochures at other local businesses. Find the opportunities and give presentations where you can. Avoid the temptation to switch jobs. It is best to stay in one place and slowly build a client base there instead of hopping from ship to ship and starting over from scratch every time.
Keep in mind; it will require a lot of patience at first. You won't be minting money within the first week of work.  There will be a lot of lonely, unpaid hours. But slowly, you can build your practice, and your hard work will pay off. This includes a period of learning and esthetician training, the importance of building and maintaining a strong client base, working long and irregular hours, and managing your finances.
Remember, marketing and having an open mind about the latest development are very important for building a solid client base. Make the most of any opportunity to network and invest in your career, and you will find your way to success.